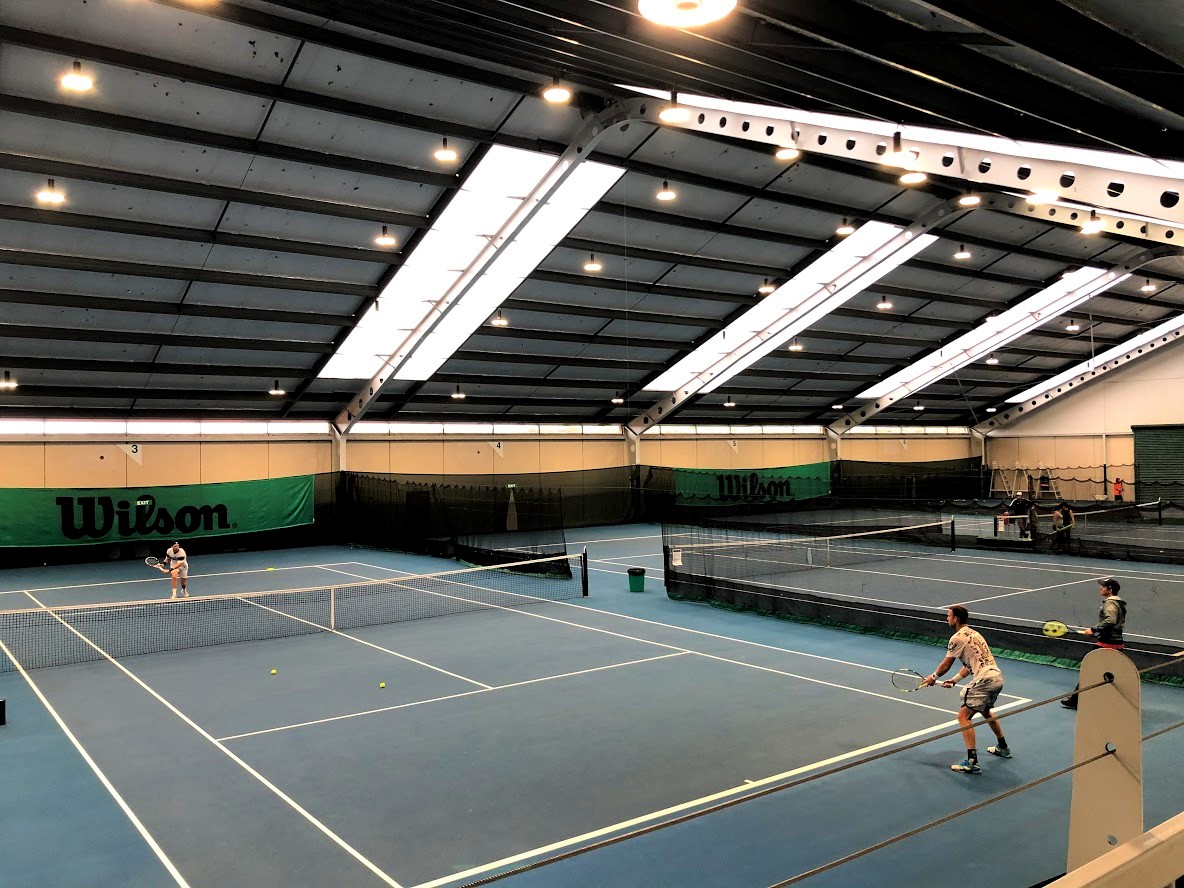 New Zealand professional Mike Venus and New Zealand raised British professional Cam Norrie training at Scarbro Tennis Centre on 25 May under the recently refurbished lighting system.
Aucklanders returning to tennis at Level 2 can now do so in vastly improved conditions, thanks to the completion of a refurbishment project at Scarbro Tennis Centre in East Auckland.
The replacement of the indoor lighting and control systems at Scarbro Tennis Centre is part of ongoing improvements to Tennis Auckland facilities, and provides much needed upgrade to the facility's infrastructure.
The refurbishment cost over $90,000 and was largely funded by New Zealand Community Trust (NZCT), in addition to funds from Tennis Auckland.
The new LED system provides full lighting coverage to the venue, which includes six indoor hardcourts that are used throughout the year for coaching, competitions and domestic tournaments.
The new technology means different levels can be set for different uses, up to and including international tournament standards, meaning the venue can provide lighting that is relevant for activity held on each individual court.
The upgraded lighting will be much appreciated by users of the venue, with the new system removing the previously dark areas that caused frustration for court users.
Tennis Auckland CEO Marcus Reynolds is pleased that local community facilities are getting the much needed upgrades.
"The upgrade of lighting at Scarbro Tennis Centre is another great step in our long-term strategy that aims to deliver improved facilities for the wider Auckland region.  We're thankful of the support of NZCT in helping up complete this project, and hope the community are as pleased with the upgraded facilities as we are" said Reynolds.
The LED technology and improved control system means Tennis Auckland are expecting to see improvements in energy usage and consumables, with lower turnover of bulbs meaning less waste parts going to landfill.
Aucklanders are able to book courts for private use at all Tennis Auckland community facilities, with availability and booking available online at www.tennisauckland.co.nz
This refurbishment follows similar work at Manukau Tennis Sports and Community Centre completed earlier this year, which saw its indoor dome lighting replaced, providing a vastly improved experience for users of the two indoor courts at the South Auckland facility.
The Centre also welcomed the arrival of CLM Community Sport who moved into refurbished office facilities in January this year, as part of the creation of a multi-activity hub. Tennis Auckland is grateful to the Otara-Papatoetoe Local Board and CLM Community Sport for their support of this community project.