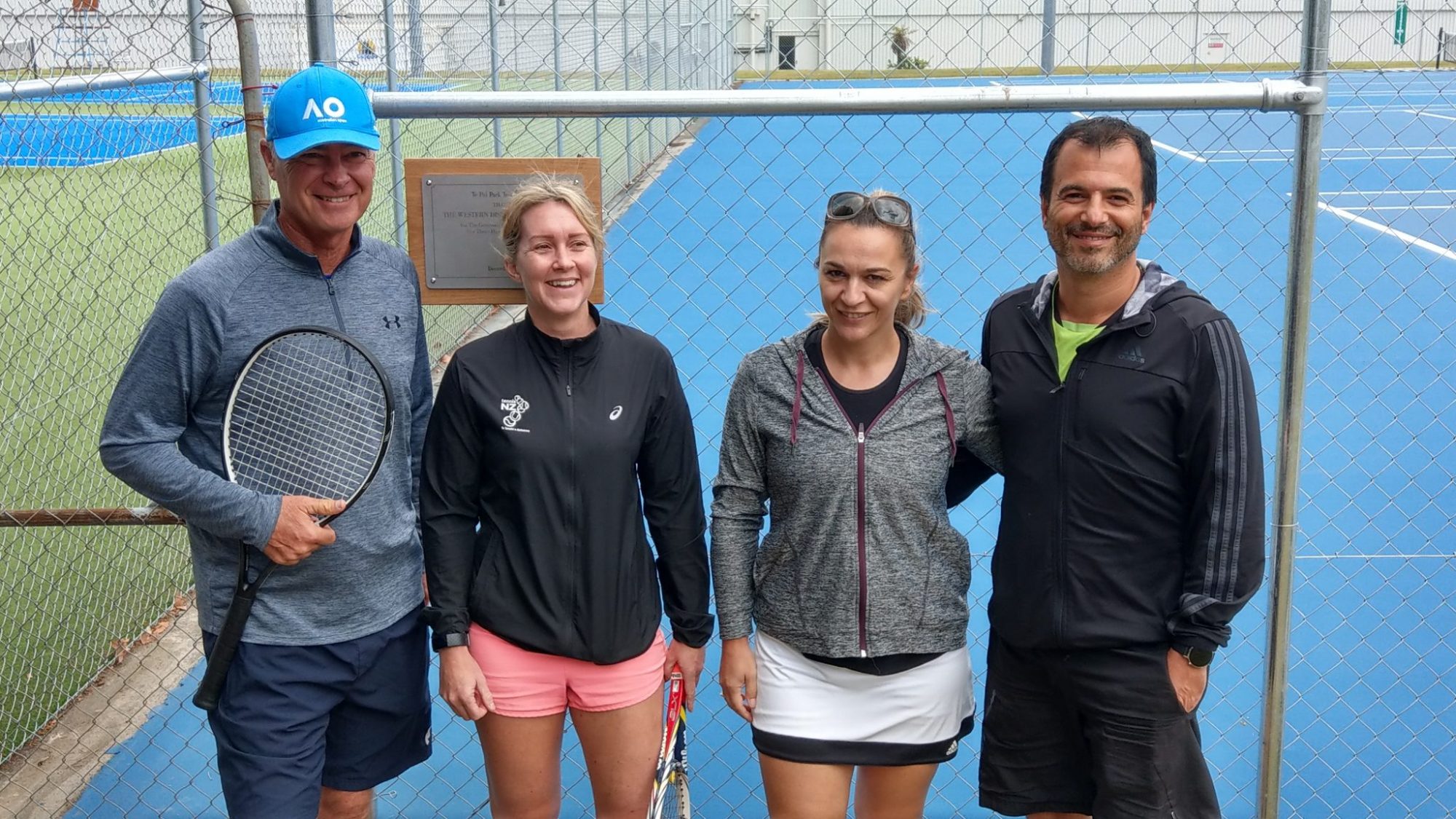 On Sunday 24 January Te Pai Park Tennis Club celebrated its recently resurfaced Rebound Ace tennis courts, new perimeter fencing and a complete refurbishment of the club bathrooms.
Club President, Rosanna Lehman, thanked the Western Districts Foundation for the generous grant before introducing Tennis Auckland representative Mark Lewis and Jenny Fitzmaurice from Tennis New Zealand.  The pair then partnered together to play a fun exhibition doubles match with two club members, Julie and Vane, umpired by the club secretary Robert Menzies.
The on court partnership between the Tennis Auckland and Tennis NZ looked strong and was a tangible example of the teamwork that takes place between regional and national organisations to assist member clubs and the sport of tennis in general.
The improvements are in addition to the recent installation of the automated gate system for online booking via Book a Court, and the club is now well positioned to attract more players from the local area to enjoy the improved facility.
The project was generously funded by the Western Districts Foundation.  A trustee from the Western District Foundation was given the honour of cutting the ribbon to unveil the plaque acknowledging the contribution in front of a loyal group of club members who have worked hard to upgrade the facility.
Tennis Auckland congratulates Te Pai Park on their upgraded facilities.  The courts were lovely to play on, the new fencing looked great and the bathrooms were a step up from before.
The public are invited to head down to Te Pai and try then improved facilities for themselves – jump online to book your court now: https://clubspark.kiwi/tepaiparktennisclub