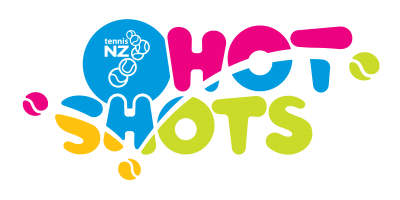 NOTE: At Alert Level 3.1 all Tennis Auckland coaching classes will adhere to government guidelines around class sizes (9 students + 1 coach), will be held on outdoor courts and will be socially distanced. No changing rooms or access to indoor facilities will be available (toilet facilities will be made available) and students are welcome to wear masks during class. 
Tennis Hot Shots Blue Stage (ages 3-5 years) will not be running until Auckland progresses through Alert Levels
Tennis Hot Shots is the national starter tennis programme designed just for kids with smaller courts, shorter racquets and softer balls, meaning that kids can play a proper game of tennis from the moment they step on court.
Using modified equipment means from the very start kids are developing technical, tactical, physical and mental skills with programmes and equipment designed to grow with them.  Sessions are made up of tactical, technical, fun and social elements which create developmental readiness in children.
All Tennis Hot Shots sessions are held at Scarbro Tennis Centre, with sessions running throughout the year (no sessions during school holidays).  All equipment is provided (children are required to wear their own sports shoes) and parents are welcome to watch the lesson from the Lounge at Scarbro Tennis Centre (for indoor sessions). 
Click below to register your child for a FREE Tennis Hot Shots session and our coaches will be in touch shortly.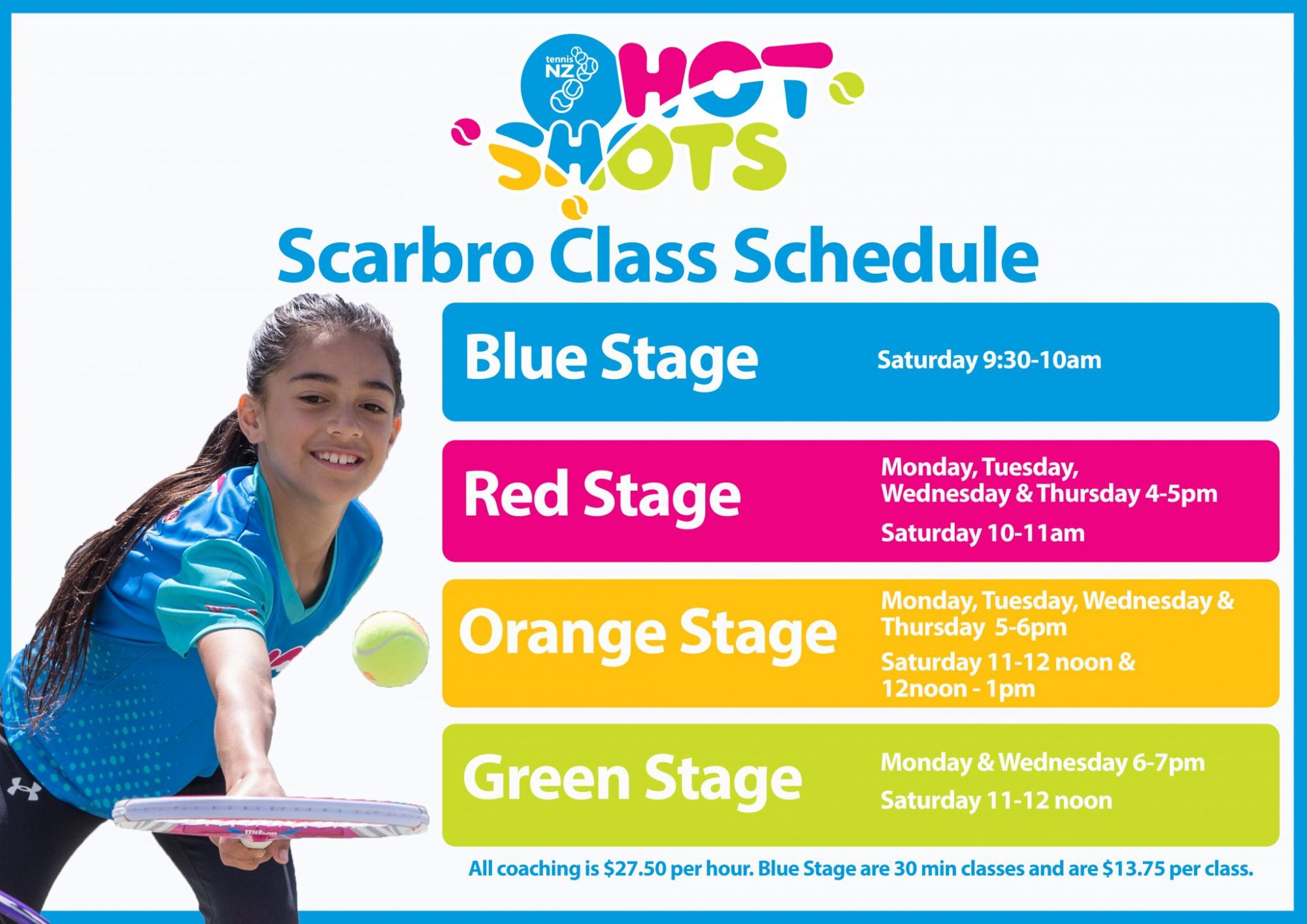 The Blue Stage (age 3 – 5) – ON HOLD

The Blue Stage introduces children to tennis through games and fun activities. Children learn the basics of tennis including how to rally using lots of adapted equipment such as balloons, big balls and beanbags.

For information on key competencies that your child will learn at this stage click here: Blue Stage

Court size: variable
Tennis ball: red ball (25% compression)
Recommended racquet size: 19-21 inches
Coaching: Saturday 9:30am – 10:00am

To enrol your child for a session click here

The Red Stage (age 5 – 8)

The red ball is larger than a yellow ball and doesn't bounce as high (just 25% compression), making it a breeze for even the youngest players to hit comfortably. The courts and nets used in the Red stage are much smaller making it easier for kids to move around and enjoy success. Red level players may be beginners, improvers or even advanced players.

For information on key competencies that your child will learn at this stage click here: Red Stage

Court size: 3 m × 8.23 or 6 m × 10.97 m
Tennis ball: red ball (25% compression)
Recommended racquet size: 21–23 inches
Coaching: Monday, Tuesday, Wednesday & Thursday: 4-5pm & Saturday 10-11am (minimum of 4 players per session, maximum 8 per coach)

To enrol your child for a session click here

The Orange Stage (age 8 – 10)

After mastering the Red stage, children move on to the Orange stage where the ball bounces a little higher (50% compression) and the court is a bit bigger. Orange players play over the regular net on a three quarter length court.

For information on key competencies that your child will learn at this stage click here: Orange Stage

Court size: 6.4 m × 18.29 m
Tennis ball: orange ball (50% compression)
Recommended racquet size: 23–25 inches
Coaching: Monday, Tuesday, Wednesday & Thursday: 5-6pm & Saturday 11-12pm (minimum of 4 players per session, maximum 8 per coach)

To enrol your child for a session click here

The Green Stage (age 9 +)

The ball used in the Green stage has a higher compression than the Red and Orange stages (75% of a yellow tennis ball) and children play on a full-size court. Green players may be older children who are new to tennis or players of a good standard who have progressed through the Blue, Red and Orange stages.

For information on key competencies that your child will learn at this stage click here: Green Stage

Court size: 10.97 m × 23.78 m (full court)
Tennis ball: green ball (75% compression)
Recommended racquet size: 25–27 inches
Coaching: Monday & Wednesday 6-7pm & Saturday 11-12 noon (minimum of 4 players per session, maximum 8 per coach)

To enrol your child for a session click here
If you want to know more about the Tennis Hot Shots programme, click here to head to the Tennis New Zealand Tennis Hot Shots website, or contact Programme Manager James Greenhalgh on 021 333 903 or email james@tennisauckland.co.nz
Tennis Hot Shots Coaches: Tina Tsai, Kay Liang, Chanistha Ampornachariya (CT), Diana Deyeva, Mat Garnham
Programme Manager: James Greenhalgh
Venue: Scarbro Tennis Centre, 69 Merton Road, Glen Innes, Auckland 1072