Scarbro Tennis Centre is Tennis Auckland's premier venue catering for all levels of tennis from elite to beginner.
Boasting 6 indoor hardcourts, 15 outdoor hardcourts and 2 all weather astroturf courts, along with spacious changing rooms, numerous viewing areas, a comfortable lounge and ample parking, it's no surprise 'Scarbro' is an iconic venue in the New Zealand tennis landscape.
Scarbro Tennis Centre is also the home of the Players Sports Pro Shop and Peak Pilates & Physiotherapy, providing the local community with  range of health and fitness services. 
Bookings

ALERT LEVEL 3: Scarbro Tennis Centre is currently closed and we are not accepting court bookings 

Email: bookings@tennisauckland.co.nz

Racquets are available for hire at the pro shop.

Contact phone for enquiries (bookings can not be made by phone) 09 528 9782

Court Hire Charges

Venue Map 
Court Hire Terms and Conditions
Court Hire T&Cs
Courts
6 Indoor Hardcourts
15 Outdoor Hardcourts
Floodlighting on 6 Indoor Courts and 4 Outdoor Courts
Location
69 Merton Road
St Johns
Opening Hours

Normal Trading
7am to 10pm Monday to Friday
8am to 7pm Weekends

Auckland Anniversary Day (Monday)
Monday 9am – 6pm

Easter Hours
Friday: Closed
Saturday: Normal trading
Sunday: Closed
Monday: 9am-6pm

Labour Day (Monday)
Monday 9am – 6pm

Christmas/New Years
Christmas Eve: Normal Trading
Christmas Day: Closed
Boxing Day: Closed
New Years Eve:
New Years day:
Pro Shop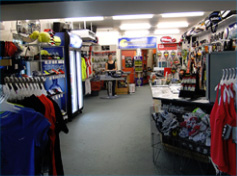 Players Sports Pro Shop
Scarbro Tennis Centre
69 Merton Road
Glen Innes
Ph +64 9 528 9782
www.playerssports.co.nz/
Trading Hours:
Monday – Friday:  7am-10pm 
Weekends and public holidays: 8am-10pm 
Closed Christmas Day and Boxing Day
Players Sports is the leading New Zealand stockist of premium tennis apparel, shoes, rackets, balls and accessories. Our experienced staff have a wealth of product knowledge and can guide you in any area of the sport. We provide an excellent, and if required, same day stringing service, expert racket advice, demonstration rackets and a try-before-you-buy service.
Peak Pilates
Click on the Peak Pilates link below for more information regarding the services they offer.