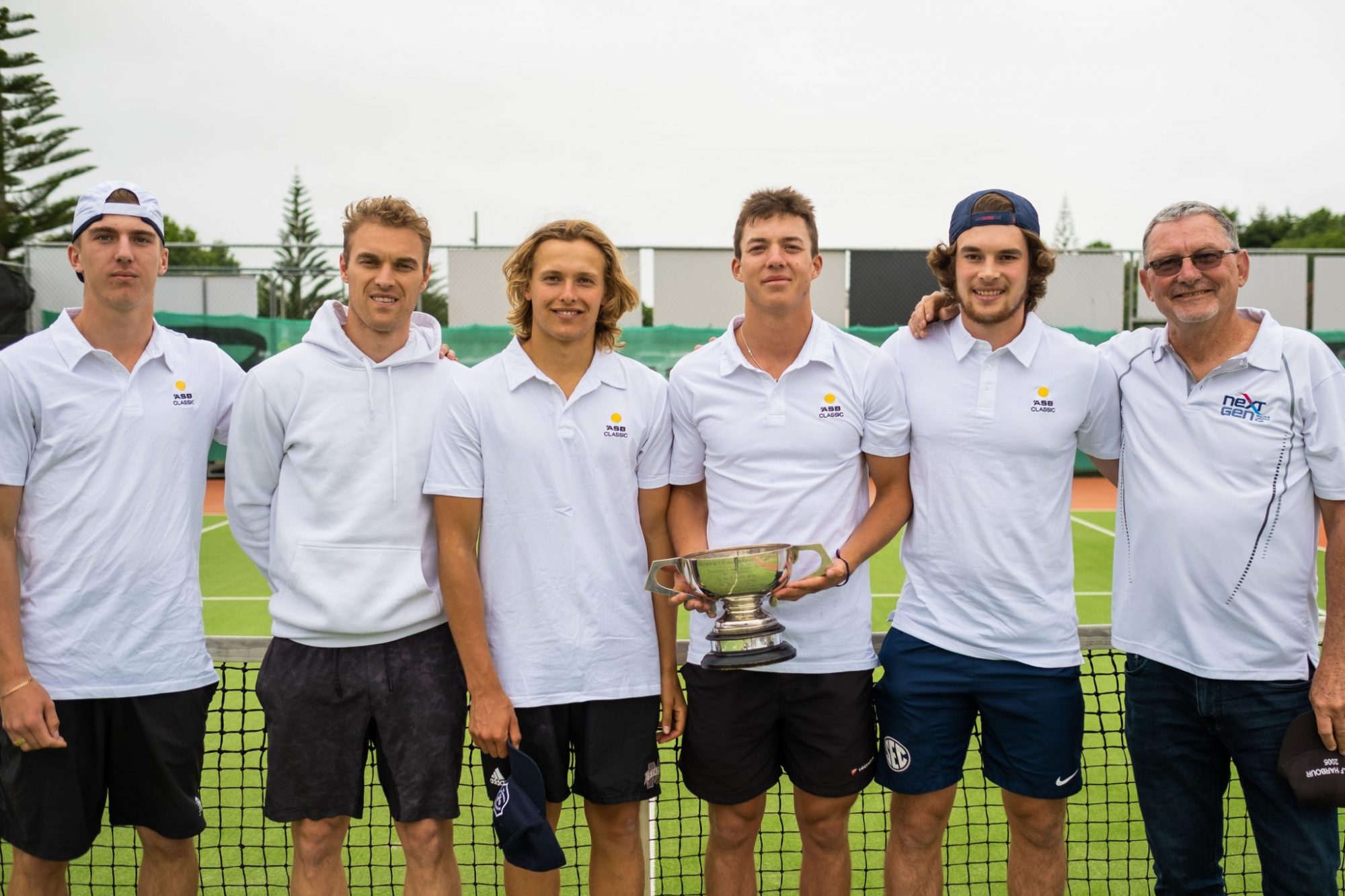 The 2020 Scarbro Caro Bowl Men's Final between ConcreTec Karaka and Next Gen was played on Friday night at the Karaka Tennis Club in front of a crowd of diehard supporters who braved cold and windy conditions. The contest was always going to be close but what panned out over the course of seven hours was a tennis version of an Alfred Hitchcock suspense thriller.
The doubles matches opened proceedings on adjacent courts. Both games went the full distance and were decided by super tiebreaks. In the top doubles, Finn Tearney and Isaac Becroft defeated Ajeet Rai and Seb Lavie to chalk up a point for Next Gen. Riki McLachlan and Reece Falck eked out a narrow win against Finn Reynolds and Corban Crowther 12-10 in the super tiebreak in a match that could not have been any closer.
With the score tied at 1-1, Reece Falck put Karaka ahead by winning his singles at number two against Isaac Becroft in two tight sets. Becroft had chances in the second set but Falck held his nerve when it mattered most. When McLachlan took the opening set of his singles against Shepp it looked like Karaka might jump out to a 3-1 lead but it was not to be. Shepp rebounded brilliantly to post a three set win and level the tie at two wins each.
So, it was down to the wire with the last two singles taking the court around 11pm. The highly anticipated match between Reynolds and Rai proved to be a one-sided affair in the end. Reynolds played soundly all night as Rai fell off the pace early in the second set to let the match slip away.
All eyes were then focussed on the final rubber between Lavie and Crowther. Lavie played an intelligent brand of tennis to capture the first set as Crowther struggled to harness his big serve and forehand. A little more consistency in the second set took Crowther into a tiebreak which he won. Needing the victory to take his team to the trophy, Crowther used his power effectively in the final set to beat Lavie in a quality thriller.
After seven hours of enthralling tennis, Next Gen were crowned the champions beating their Karaka opponents 4-2 in a match up that could have gone either way. The Scarbro Caro Bowl trophy comes back to city based Next Gen who last won it in 2017.
Congratulations to Next Gen, the 2020 Scarbro Caro Bowl champions, and to Karaka for putting up such a wonderful performance in the final.
In the Women's competition, despite losing to Birthcare Bucklands Beach on Friday night, TSB Parnell did just enough to earn hosting rights for the Scarbro Caro Bowl Women's final this Friday.
Needing a 3-3 draw or better, Parnell found themselves 3-2 down with the top ladies singles between Jade Lewis and Jade Otway to finish. The first two sets were split but Lewis came through in the third to guarantee a home final for Parnell. The two teams will go at it again in the final and it should be a close one. Bucklands Beach eventually beat Parnell on countback by two games so the final could go either way.
The other pool matches played were just as close. Zealandia Sunnyhills won on sets countback to beat Collison & Co Kohimarama, while Champagne Bollinger Pompallier won its second match in a row to beat Sparta Campbell Park on countback. This season has seen a number of close matches played and this is reflected in the final points standings where only 6 six points separate the last four teams.
Click here to go to the SCARBRO Caro Bowl section at for full draws and results