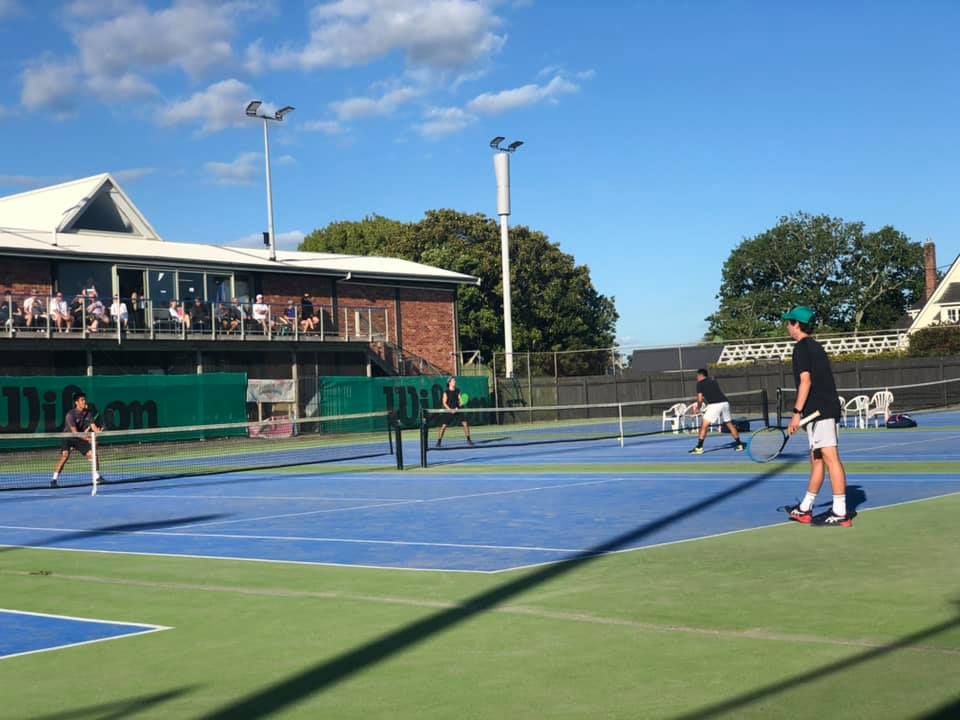 ConcreTec Karaka are through to the final of the 2020 Scarbro Caro Bowl after defeating Blockhouse Bay in a super tight semi-final encounter on Friday night. In a repeat of the 2018 final, the two clubs traded blows in the opening doubles matches before sharing the spoils.
Ajeet Rai and Ricki McLachlan lost the top doubles to George Stoupe and Satchel Benn in a third set super tie break but the combination of Reece Falck and Matt Alexander came through to pick up a doubles point for Karaka by closing out their match in identical fashion.
The singles matches were just as close. Rai needed three sets to eke out a win over Stoupe while Falck nailed another point for Karaka by downing Colenbrander 7-5 in the third set. The last point was secured by Seb Lavie in the number four singles when he took out Benn in two sets. After missing out on making the final last year, Karaka is highly motivated to reclaim the trophy they won in 2018.
Their opponent in the final will be Next Gen who won comfortably against defending champions Wings Security Cockle Bay in a repeat of last years final. Finn Tearney and Isaac Becroft outplayed Rob Reynolds and Alex Hunt in straight sets and on an adjacent court the pairing of Finn Reynolds and Corban Crowther defeated Dan Persson and Matt Shearer. With a 2-0 lead going into the singles, Finn Reynolds made short work of his brother Rob and Isaac Becroft scored an even more comfortable win over Alex Hunt. To wrap up the night Corban Crowther beat Dan Persson in a quality match between two of the country's top juniors.
The final between Karaka and Next Gen will be played this Friday at Karaka and should be a tight affair between the two best teams in the competition this year.
At the other end of the men's competition, four teams went to war on Friday to try and avoid relegation to the lower division next year. Birthcare Bucklands Beach started well against Eden Epsom and claimed a crucial three set win in the top doubles to open a 2-0 lead going into the singles. Eden Epsom battled valiantly to split the singles matches but it was not enough and they find themselves in the relegation match.
The same fate awaits Remuera who fell to Parnell HEAD on sets countback. The Statham brothers, Rubin and Oliver, can take credit for pulling the Parnell side through by winning their doubles and singles matches in straight sets. The Parnell lower order failed to win matches but did manage to collect two sets which proved the difference between winning and losing the tie.
The relegation match and playoffs for 3rd, 4th, 5th and 6th will be played on December 4.
In the Women's competition it was another double header weekend with teams playing twice over the weekend, starting with a blockbuster line up of matches on the Friday evening.
TSB Parnell edged closer to a spot in the final with a 5-1 victory over bottom of the table Champagne Bollinger Pompallier. Jade Lewis continued her winning form, beating Sarah Wardenburg in the feature match and also landing a doubles point for her team. Megan Rogers was the sole winner for Pompallier beating Paige Alter at number three.
OnForm Royal Oak outplayed defending champs Zealandia Sunnyhills 5-1 to keep final hopes alive but they are running out of time with only one match left to play. Sarah Weekly won a tough match against Kelly Southwood at one while Holly Stewart ran away with the third set to beat Vivian Yang.
Sparta Campbell Park managed to record a strong win against Birthcare Bucklands Beach bouncing back from the loss of both doubles matches to win all four singles. Elyse Tse beat Jade Otway in a close three setter and Shona Nakano at two dealt to Abby Mason. Kohimarama had the bye for this round.
In Sunday's match ups, Parnell maintained its unbeaten record beating Kohimarama 5-1. The opening doubles were comfortably won by Parnell who went on to take three of the four singles matches to move to the top of the table and secure a place in the final.
Royal Oak finished their season on a high note beating Campbell Park 4-2 mainly because of their strength in the doubles matches played. Youngsters Tse and Nakona were only a whisker away from upsetting Beattie and Stewart in the top doubles but went down in a super tiebreaker and this loss proved to be significant in deciding the outcome. Even though Royal Oak won, they may fall just short of making the final this year.
Pompallier celebrated its first win of the season when they beat Sunnyhills on a sets countback. Star of the show was Sarah Wardenburg who teamed with Laura Isbey to pick up the top doubles before winning her singles against Vivian Yang with surprising ease. The win lifted them to a tie on points with Kohimarama at the bottom of the table.
Bucklands Beach sat out the round with a bye and are tied in second place with Royal Oak who have played all their matches. Bucklands Beach take on Parnell next Friday in a top of the table clash to determine which club will host the final scheduled to be played on 4 December.
Click here for full SCARBRO Caro Bowl draws and results