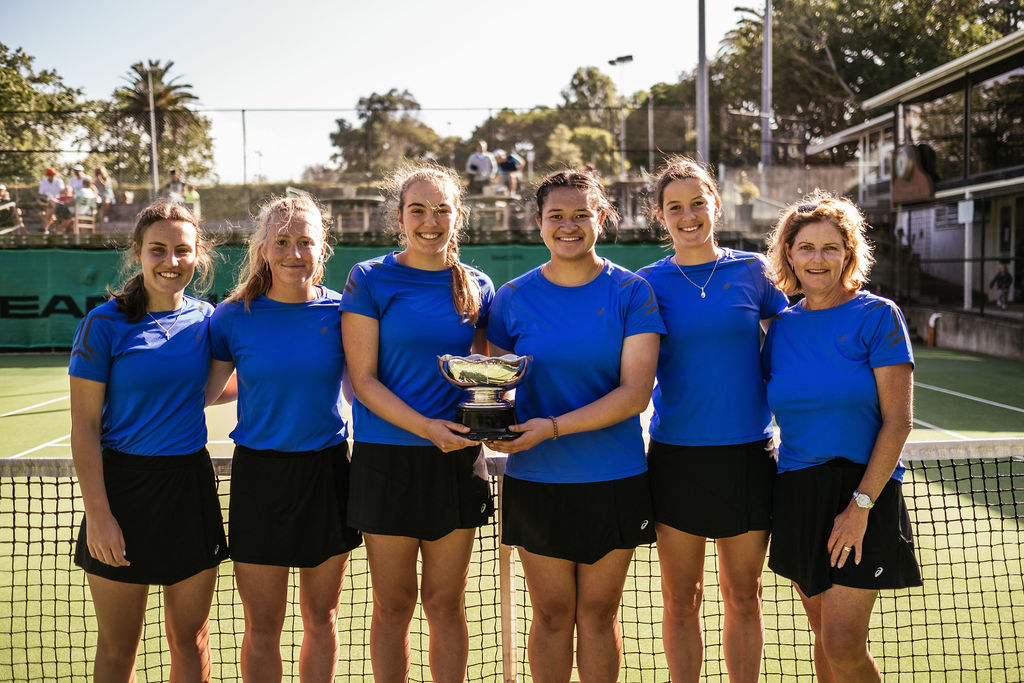 It proved to be third time lucky for Birthcare Bucklands Beach when they defeated host club TSB Parnell 4-2 last Friday night to win the Scarbro Caro Bowl for the first time in front of a good sized crowd. Beaten finalists for the last two years, the eastern beach side got off to a dream start by capturing both doubles matches in straight sets. It's never easy to recover from a two point deficit but Parnell fought valiantly all night in the singles to retrieve the situation.
Stella Cliffe gave Parnell hope when she beat Abby Mason in straight sets to give her team its first point of the night. While Cliffe was wrapping up her match, Jade Otway won the first set of her match against Jade Lewis and the number three and four singles matches were on the way to being shared. This proved to be the case with Ines Stephani beating Paige Alter to put Bucklands Beach ahead 3-1 before Taylor Brown downed Lize-Mari Beer to narrow the margin.
While this was going on, Lewis fought back in her match to win the second set against Otway but even if she'd won it would have been to no avail. By winning the opening set, Otway had secured a countback victory for her team who would not be denied the title for a third consecutive year. Lewis, who appeared to be suffering discomfort in her back, defaulted the final set to give Bucklands Beach a 4-2 victory and its first ever title.
Congratulations to Bucklands Beach on a wonderful season and for claiming the Scarbro Caro Bowl trophy for the first time.
In the Men's Relegation match, Remuera rose to the occasion on the night to stave off relegation to a lower division next year when they beat Eden Epsom 4-2 on Friday.
The match was always going to be close so it was no surprise when the two opening doubles matches were shared. Alex Klintcharov led the way for Remuera when he teamed with Chris Zhang to beat Hyeok Min and Gabriel Hernandez in the top doubles. Francisco Mendieta combined well with Auckland junior Sam Hodges to pull a point back for Eden Epsom by beating Nick Beamish and Caelan Potts.
Singles matches took to court and these were torrid affairs with three of them decided in three sets. Klintcharov showed class winning the top singles while Mendieta fought back gamely to pick up a point for Eden Epsom. The last two singles matches went to Remuera with Potts clawing back from a first set loss to beat Hodges in three and Zhang did the same to win his match against Hernandez.
Remuera will remain in the Scarbro Caro Bowl Men's competition for another season at least while Eden Epsom drop to Caro Bowl Reserve next year.
To see photos from the Finals click here