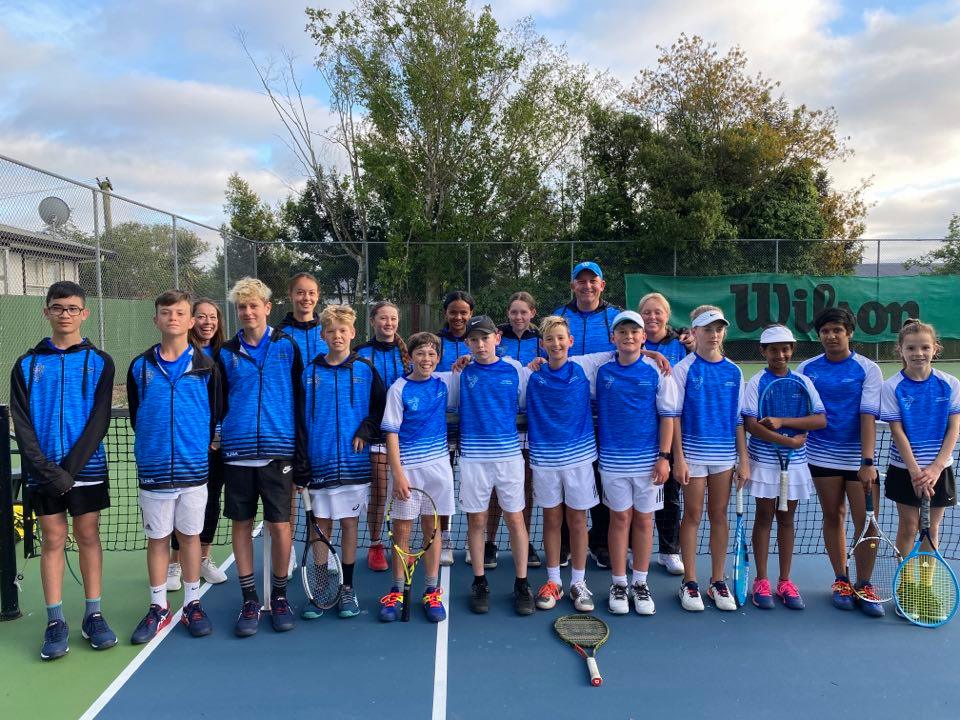 Tennis Auckland has confirmed its position as the leading region for the development of youth tennis, with Auckland teams taking out all three titles at the recent 2020 AON National Junior Teams Events over the long weekend.
Tennis Auckland teams brought home gold medals in 12U, 14U and 17U competitions held in Christchurch and Hamilton over the long weekend.  The clean sweep of these events means that Tennis Auckland also brings home the overall Region of the Year trophy for the sixth consecutive year.
Both the 12U and 14U teams secured their gold medals with wins over the hosts Canterbury on finals day, after a strong three days of competition over the preceding days.
The 12U team put up a dominant performance in the finals, taking the title with an 8-1 match win over Canterbury on what was an extremely hot weekend of tennis.
The 14U team had a harder battle on their hands on finals day, with a tight 5-4 win over the home team, with match wins split fairly evenly over singles and doubles matches.
In the 17U competition held in Hamilton, Auckland players showed their class winning 5 out of the 6 singles matches, putting the result out of reach of a sold Northern team before the doubles matches were even started.
Tennis Auckland has a strong tradition in these events. Tennis Auckland Regional Performance Manager, James Greenhalgh, was proud of the effort put in by all players and management staff.
"It was great to see so many players perform strongly on court, especially when for many of the younger players, this was their first time at these events. To see kids putting the team before the individual, and taking pride in playing for their region, you can see these players really growing as people" said Greenhalgh.
"It's a huge learning experience for many players who don't usually get the opportunity to be part of a team environment in what is mostly an individual sport. To see the kids come together and create a strong team culture, with players taking on leadership roles and developing their skills both on and off the court, was really great to see" continued Greenhalgh.
Tennis Auckland would like to thank all of the coaches throughout the wider club and community network who have contributed to the development of the players, as well as the coaches and managers of the teams who showed their professionalism and dedication not only in the lead up to the event, but for also giving up their time over a long weekend to support the players.
Special thanks also go out to Four Winds Foundation for their ongoing support.
Team Lists
Auckland 12U Team
Yashwitha Reddy
Genevieve Dickey
Una Misic
Boidehi Ukil
Andre Duggan
Felix Littlejohn
Zaccariah Fussell
Samuel Fussell
Coach: James Greenhalgh
Manager: Catherine Garvey
Auckland 14U Team
Aishi Das
Olivia Brown
Mei Ling Joensen-Lee
Audrey Newman
Lev Gorb
Jac Chapman
Max Richardson
Keean Jang
Coach: Angela Swinkles
Manager: Catherine Garvey
Auckland 17U Team
Ana Tamanika
Bridget Han
Emma Anderson
Hana Rose
Kevin Fu
James McPherson
Max Dickey
Alexander Mirkov
Coach: Gary Swinkles
Manager: Mei Yu