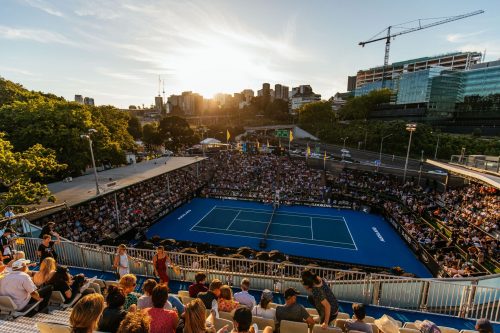 Tennis Auckland and the ASB Classic are pleased to confirm that redevelopment of public stands at the ASB Tennis Arena will commence this year.
Auckland Council this week approved funding for the redevelopment of ASB Tennis Arena with $3 million confirmed for Stage 1A (redevelopment of the Yock Stand) and $2.5 million for Stage 1B (redevelopment of the Robinson Stand). As a result, Stage 1A of the redevelopment will commence in 2019.
Once complete the upgrade of the ASB Tennis Arena will increase capacity of Centre Court to 3500, the minimum requirement set by WTA and ATP license requirements. This increase in stadium capacity, as well as improvements in public facilities at the stadium, will help secure the ASB Classic in Auckland for years to come.
Tennis Auckland CEO Marcus Reynolds is thrilled with the decision from Auckland Council and what it means for the wider Auckland community.
"The ASB Classic provides the main revenue stream to Tennis Auckland, which in turn allows us to deliver school programmes and community initiatives throughout Auckland, as well as provide three public tennis facilities across the region. Upgrading the facilities at the ASB Tennis Arena is important not only for fans of the ASB Classic, but it will help ensure quality tennis experiences are delivered across Auckland for years to come."
The sentiment was shared by ASB Classic Tournament Director Karl Budge, who is looking forward to starting the redevelopment.
"This has been something that we, and we know our fans, have been looking forward to for a while now.  The Yock Stand in particular has seen a lot in its time, from Rod Laver, Yvonne Goolagong and Billie Jean King through to Rafael Nadal, Serena Williams and a young Naomi Osaka, but I don't think anyone will argue that it's long overdue for an upgrade.
"We want to ensure the facilities at the ASB Tennis Arena are the same premium level as the tennis delivered out on court, and this funding will help deliver this."
Full redevelopment plans for the Arena include additional facilities upgrades with a wet weather solution remaining a key deliverable.
Tennis Auckland is currently reviewing the details of the funding grant and finalising details with contractors and key stakeholders, with plans to commence construction in the coming weeks.