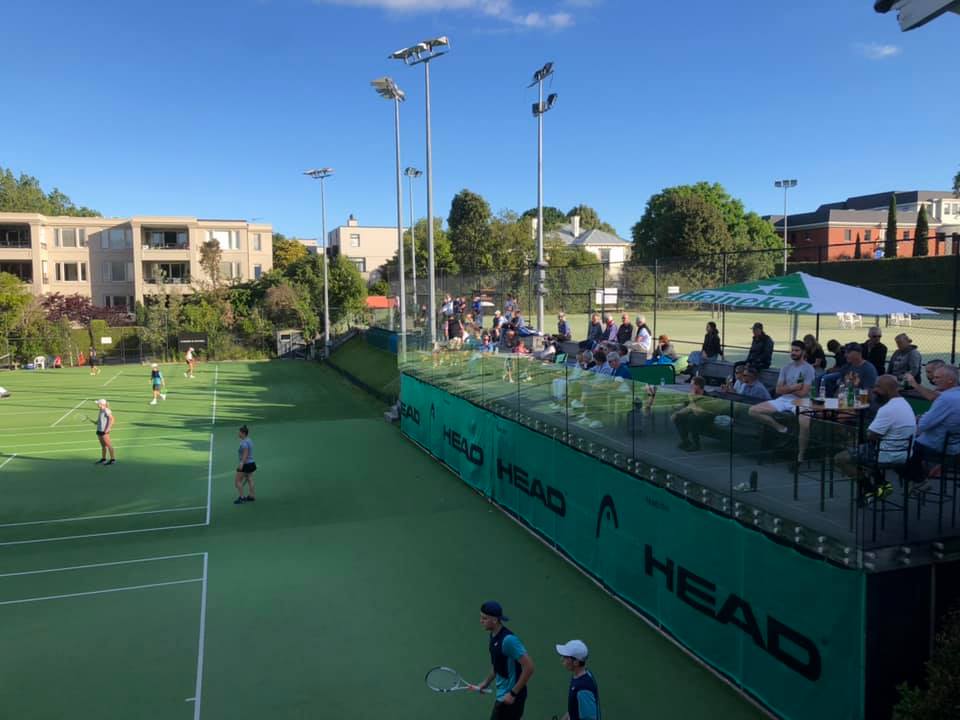 Crowds enjoying Parnell in action last Friday night 
Week 3 of Auckland's premier tennis competition, SCARBRO Caro Bowl, has delivered some movement in the points table of the Women's competition and the top 4 contenders on the Men's side.
In the Women's competition, Bucklands Beach had a 5-1 win over defending champions Zealandia Sunnyhills this week. Kelly Drew was able to pick up a point for Sunnyhills in a tightly contested singles match, but the win leaves Bucklands Beach eight points clear at the top of the points table after four rounds.
Parnell TSB came back strongly from their bye in the previous round with a 5-1 win over OnForm Royal Oak. Both doubles matches were close, each going to three sets. Sarah Weekly and Holly Stewart won the only point for Royal Oak, taking home the win after a closely fought battle against former New Zealand representative Jade Lewis and her partner Stella Cliffe.
Campbell Park Sparta Tennis put in a good performance and took home a 4-2 win over Kohimarama Collison & Co.  Elyse Tse and Shona Nakano picked up strong wins in their singles matches and teamed up in the doubles to beat the Kohimarama pairing of Kalais Going and Holly Matson, finally winning in three sets 7-5, 4-6, 10-7.
The win lifts Campbell Park off the bottom of the table and they'll be looking to take their form into this weeks double header, with all teams playing both Friday night and Sunday afternoon.
In the Men's draw, the final week of the round robin portion of the competition the top teams on each side of the draw went head to head in tight match ups around Auckland.
Karaka ConcreTec continued their winnings ways at home against defending champions Cockle Bay Wings Security on Sunday afternoon. Karaka started strong, winning both doubles matches. However Matthew Shearer and Kevin Fu put up a strong fight for Cockle Bay, picking up points with singles wins. However Davis Cup player Ajeet Rai and Reece Falck steadied the ship with their singles matches, securing a 4-2 victory for Karaka. This win means Karaka finish the round robin unbeaten at the top of Pool A.
In the other Pool A match, Eden Epsom and Remuera had a close contest on Friday night with Eden Epsom taking home the points on sets countback after the tie was drawn.  After each team winning one doubles match each, Francisco Mendieta and Ben Muller, who was filling in from Caro Reserve, each won their singles matches for Eden Epsom.  Alex Klintcharov and Calean Potts did the same for Remuera, however it was the set that Sam Hodges won off Caelan Potts in their singles match that gave Eden Epsom the advantage in the sets countback, and the overall win.
In Pool B of the Men's competition, Parnell HEAD had a comfortable 4-2 win over Bucklands Beach, winning both doubles matches and the Statham brothers winning both of their singles matches.
Top of the table Next Gen had a tight contest against second placed Blockhouse Bay on Friday evening. After Blockhouse Bay won both doubles matches Next Gen staged an impressive fight back with Finn Tearney, Finn Reynolds and Isaac Becroft all pulling off straight sets wins in their singles matches. With Finn Tearney and Isaac Becroft winning a set off their opposition in their doubles match, Next Gen secured the tie by one set, meaning Next Gen finish top of Pool B at end of pool play.
The Men's draw is now split into top 4 semi finalists and playoffs for positions 5-8. This week's matches will all be played on Friday night, and the public are encouraged to head along to their local SCARBRO Caro Bowl club and catch some of New Zealand's top players in action.
Friday 20 November, 6pm
Men's Semi Finals
Karaka v Blockhouse Bay
Next Gen v Cockle Bay
Men's Playoffs
Eden Epson v Bucklands Beach
Parnell v Remuera
Women's Round 5
Pompallier v Parnell
Royal Oak v Sunnyhills
Bucklands Beach v Campbell Park
Sunday 22 November, 2pm
Women's Round 6
Kohimarama v Parnell
Sunnyhills v Pompallier
Campbell Park v Royal Oak
Note: Home teams listed first. For wet weather venues please head to tennisauckland.co.nz/scarbro-caro-bowl/