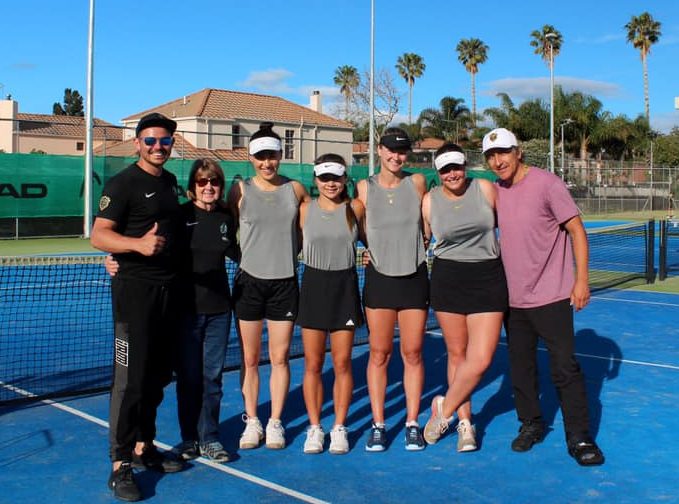 Pompallier Champagne Bollinger 2020 Women's SCARBRO Caro Bowl Team 
Week 2 of SCARBRO Caro Bowl saw a mixture of clean sweeps and super tight draws, and with a double header in the Women's draw, there was plenty of action on courts throughout Auckland this weekend.
In the Men's draw ConcreTec Karaka continued to show they're a force to be reckoned with this season with a strong 6-0 win at home over Eden Epsom on Sunday afternoon. The dominant Karaka didn't drop a set in the entire contest, with Davis Cup player Ajeet Rai winning his singles 6-1  6-1.
Defending champions Wings Security Cockle Bay also continued their winning ways with a solid 5-1 win over Remuera on Friday night. Cockle Bay put in a strong performance on the evening, with only Chris Zhang putting up a resistance and picking up a point for the visitors.
Karaka now lead the Pool A table, and take on Cockle Bay at home this weekend.
In Pool B of the Men's draw, Next Gen had a 6-0 win over Bucklands Beach on Friday night. After winning both doubles in straight sets, with Davis Cup player Finn Tearney making his debut this season in the top doubles, the rest of the team all had close three setters in their singles matches.
The other match up of Pool B saw the tightest contest of the week, with Blockhouse Bay taking the points over Parnell HEAD on a games countback after drawing the matches and sets.  After one match each in the doubles, Parnell secured two singles matches thanks to the dynamic duo of brother Rubin and Oliver Statham, whilst Victor Romero and Satchell Benn won their singles matches for Blockhouse Bay.
Next Gen are currently top of Pool B and will take on second placed Blockhouse Bay in this weekend's draw.
It was a double-header for the Women's competition this week, with teams playing on both Friday night and Sunday afternoon, producing some exciting results.
In the Friday night matches Bucklands Beach had an impressive 5-1 win over OnForm Royal Oak with Jade Otway winning a tight three set battle against Sarah Weekley.
TSB Parnell had a 5-1 win over defending champions Sunnyhills, who made their debut this week after having a bye in Round 1. Jade Lewis showed her form picking up another strong win for Parnell in her singles match.
Collinson & Co Kohimarama and Champagne Bollinger Pompallier had a close contest on Friday night. With another draw between the teams in both matches and sets, Kohimarama took the points after winning by three games in a game's countback.
In Sunday's matches, Bucklands Beach had a 4-2 win over Pompallier. Jade Otway had another three-set battle, eventually prevailing over a strong Sarah Wardenburg. Although Laura Isbey and Megan Rogers put up solid performances for Pompallier in their singles matches, a clean sweep by Bucklands Beach in the doubles sealed the win.
Royal Oak had a 4-2 win over Kohimarama, with Kohimarama's Kalais Going winning her singles match over Royal Oak number one Leela Beattie.  Beattie teamed up with Holly Stewart to take her revenge in the doubles, the win helping Royal Oak secure the tie and the points.
Sunnyhills won all matches in their contest against Sparta Tennis Campbell Park, with the latter unable to field their usual starting line-up due to a clash with the Junior Masters event in Hamilton.  With a depleted team, Campbell Park were unable to pick up any points on Sunday afternoon and Sunnyhills took home all points on offer.
Head along to www.tennisauckland.co.nz/scarbro-caro-bowl for full draws and results